Robotics
Robotics and automation.

García Ramos has a long experience and high knowledge on the most innovatives technologies for industrial environments.
The main lines of action are:
INDUSTRIAL ROBOTICS: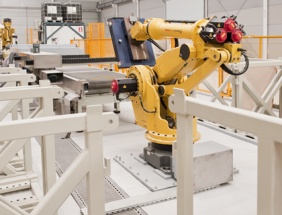 García ramos develops advanced automated control systems and high performance industrial robot solutions.
Its development is done mainly through its departments of R&D and technical office, also we work in open innovation and a part of its research and development is done in cooperation with the CTAP.
The cooperation of all these departments allows García Ramos to offer comprehensive solutions for advanced industry that go beyond simple machining processes.
SCADA:
In García Ramos, we develop SCADA systems high performance with a simple and basic interface that will allow plant operators and supervisors machines have total control of the production process.
ARTIFICIAL VISION:
With the latest technological advances and the artificial vision, García Ramos develops intelligent systems that are capable of creating environments algnment for various sectors such as natural stone or horticulture. One of the main features is taht we respond to complex projects with a high variability of products and complexity in the analysis.